In times of trouble I turn to my parents, that is when I run into trouble. But what would I do if my work or club needed quick cash to keep going on? Probably not turn to brothels, but it happens.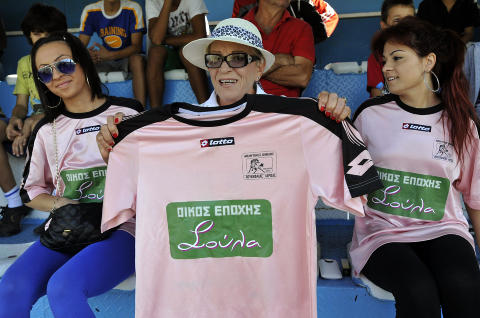 Amateur soccer teams in Greece faced a hard time after budget cuts drastically reduced the money received; this is yet another side-effect of the Greek Euro Crisis. In an attempt to keep playing the sport, they turned to sponsors for a cash flow. The new money comes from a range of vastly different places. From kebab shops to funeral homes, feta cheese to a jam factory, variety really is the spice of life. But a small team, Voukefalas club, from the city of Larissa in central Greece, turned to two brothels, Villa Erotica and Soula's House of History. Just an FYI, prostitution is legal in Greece.
Pictured Right: Brothel owner attends  soccer match with two workers
The deal, initially a joke between the team manager and the owner of the brothel, also known as a bordello, came to reality one remark about getting sponsorship and "other benefits" later. I guess it wasn't the mutual idea of "play" that made the deal seem natural.
The newly sponsored team now sports pink jerseys that display "Villa Erotica" on their backs, though they are not allowed to play any real matches in them. I can only imagine what effect this has on the players and other teams going against them. Let's hope it isn't making the sport too hard.
When the chairman/travel-agency owner/backup goal keeper of the team received question on this action, he responded that "It is a question of survival". Villa Erotica has already supplied the practice jerseys and 1000 euros ($1312), only a tenth of the 10,000 euros needed for a year of play.
(Pictured Left: Voukefalas Soccer team poses with new jerseys)
Most people in social media have linked to several articles over and over again, but a few have found a way to capture the humor of the situation. Some are using witty sayings,  most people seem to hold a neutral ground. Personally, I think it's fine. Though I would like to see more "ball play" puns.
I think the teams should look a merger. The Voukefalas club stated that they still lack a midfield, something you would have no trouble patching up with a combination of two teams that are only two-thirds full. But then it becomes a question of there being enough teams to play each other.
Pictured Right: Tweets about the news of Voukefalas Sponsorship  
Does the community see this as a troubling thing? Should the team be aloud to keep their sponsorships? My theory is, if you can legally have brothels, then you can have them sponsor your team. They are a company just like the rest of the sponsors and should not be prohibited from sponsoring due to their type of business. What about your thoughts?
http://soccernet.espn.go.com/news/story/_/id/1193095/brothels-rescue-cash-strapped-greek-soccer-team?cc=5901
http://news.yahoo.com/brothel-funeral-home-bail-greek-soccer-clubs-160930111–sow.html
http://brittneyinla.com/2012/10/19/brought-to-you-by-brothels/
http://sportsillustrated.cnn.com/2012/soccer/10/17/greece-brothels-voukefalas.ap/index.html
http://frontierfooty.wordpress.com/2012/10/19/sex-trade-saves-greek-amateur-football-club/